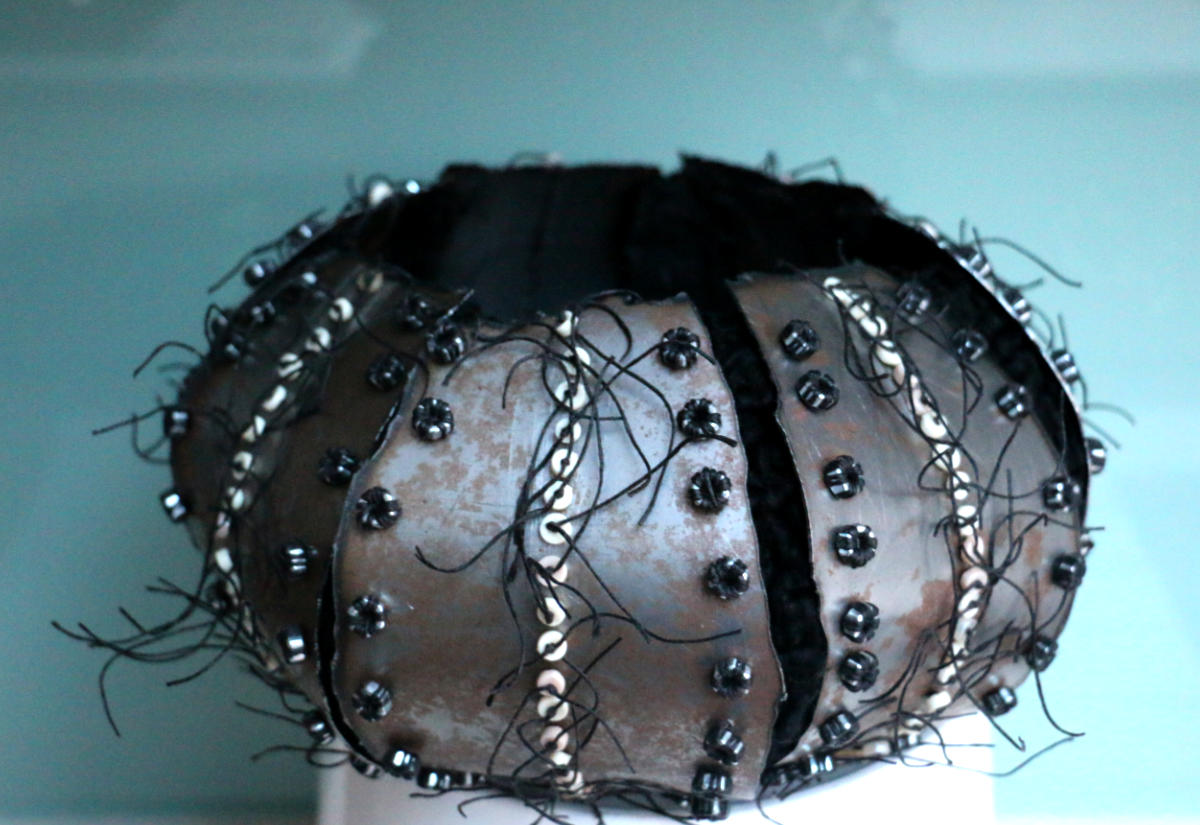 Sea Urchins and Sea Dragons regularly feature in my work where I explore their shape, movement and susceptibility to environmental change using recycled and waste materials. When I was a child I witnessed the dramatic effect on a small area of headland when humans stripped it of urchins for food. This memory helped shape the way I see our world and strongly influences my work.
When they are alive the black spines of the urchin protect them from most predators. Once the animal is gone the shell is revealed to be both beautiful and fragile, each with a unique colour and texture. Armoured Urchin explores this dichotomy while experimenting with using textile techniques and media to sculpt with metal. Using fabric and thread to join the steel segments initially seemed unique. The focus was on creating a piece which had movement when handled but as I worked its similarity to armour became obvious. This particularly contrasts with the fragile creature that inspired its form.
This piece is part of a new development of techniques and media which started at the Yorkshire Sculpture Park under the guidance of Brian and George Fell. I immediately felt an affinity for working steel: using hot and cold methods to shape it, cutting it with a plasma cutter and welding. These techniques are a very physical way to add texture and form which I find energising.
One of the pleasures of creating my urchins is the process of manipulating and shaping them as I stitch the segments together: giving them structure and form through stitch alone. Working with steel is quite the opposite: I use stitch to add the softness. It requires more planning and accuracy from the outset. Working in this new way is an invigorating challenge and an important part of growing my practice.
Process is important to all my work – the application of techniques which require manipulation with my hands, is something I find vital. Whereas the techniques used to shape and mark the steel are new to me, they are really just adaptations of old techniques. It is all a continuum of process.
Materials: Steel, faux fur coat fabric, bolts wrapped with wax linen thread, found shell beads, waxed and plain linen thread.
Dimensions: approx 12 x 22 x 20 cm