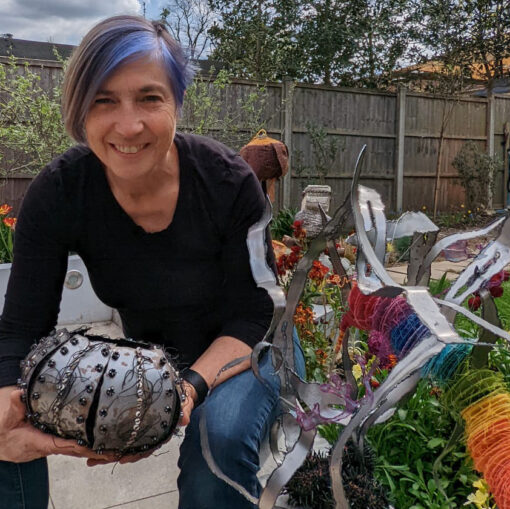 An Australian artist living and working in London, I create mixed media sculptures and drawings through the tactile process of combining materials with contrasting textures and origins. Most of my work incorporates stitch.
My inspiration is found in the intricate details of the world around me. I collect ideas by looking and drawing and collecting materials: natural and man-made. It is important that the materials I use are 'waste', left over and on their way to the bin.
My work is tactile and process-led. Each piece evolves instinctively as I manipulate and combine materials with contrasting textures. I may start with drawings and imagination but as the media is worked and stitches are added the unique characteristics of each piece emerges.
Even as a very young child I was drawn to quirky sea side 'souvenirs'. Although the bold colour, shape and texture of banksia and gum blossom from my childhood home in Australia are apparent in many of my pieces but diving introduced me to a more diverse, quirky beauty which always creeps into my work.
Teaching and Mentoring: Well-Being Practitioner
I am passionate about spreading my love of making and creating, particularly to those who need to reconnect with their haptic sense (touch) and creativity. Spending time making and creating, especially in small groups, is beneficial to all, and especially to those who are experiencing emotional and behavioural difficulties and/or who have different needs. A Postgraduate Certificate in Applied Art Room Practice from Bath Spa University exposed me to methodologies which have strengthened my ability to apply what had previously been a well-informed hunch. I continue to study this side of creative teaching and learning and apply it as a well-being practitioner with Arts for Life Project and as a Fine Cell Work volunteer as well as with other community projects.
I never tire of encouraging and coaching creations from an idea to reality. The colours, ideas and bonkers enthusiasm of the people I work with constantly inform my work. To see more of their work visit www.Stitch.Club.
CV