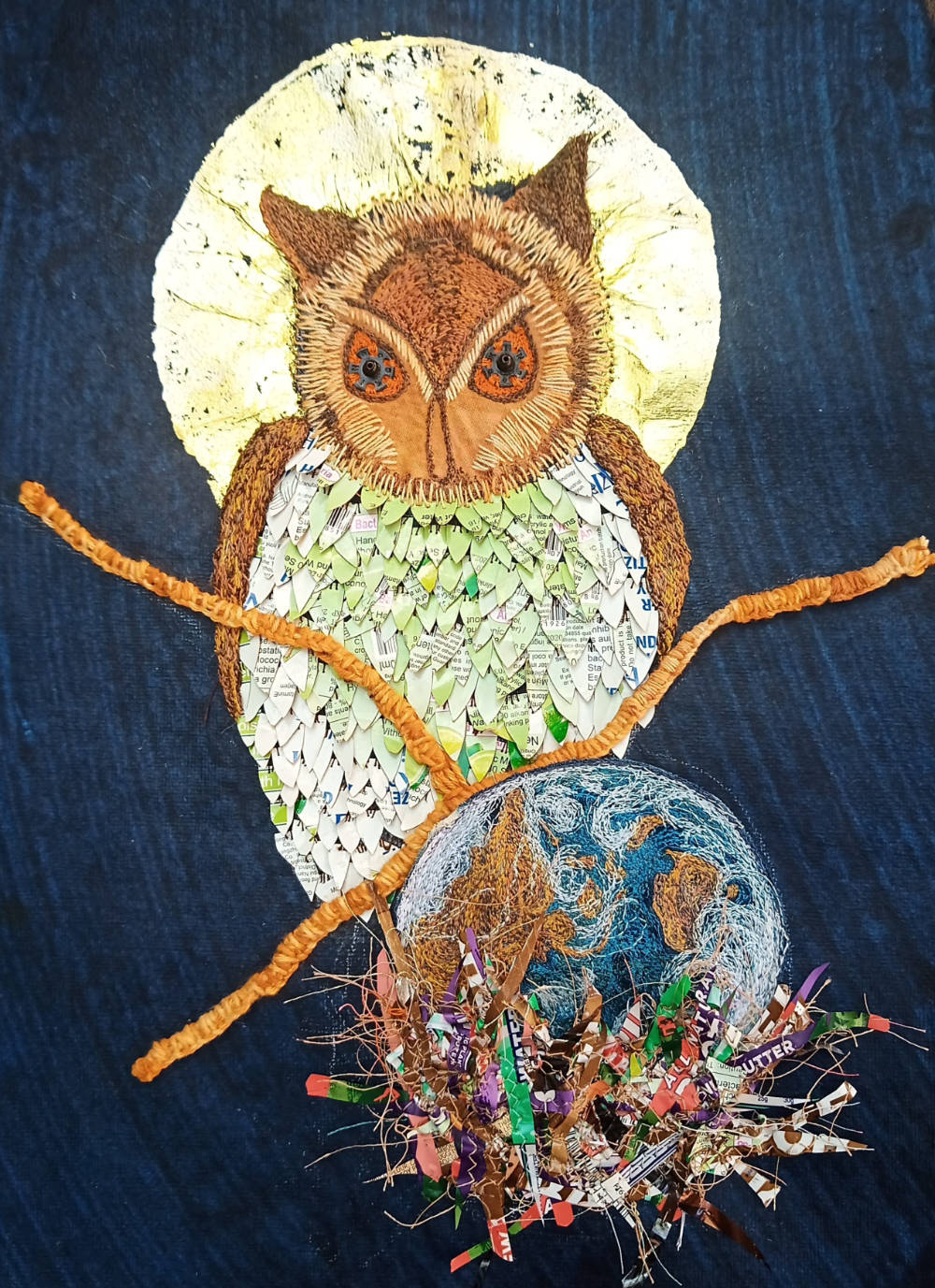 This piece was created for Art Aviso's project: Door to Door (Art in the time of COVID-19 or Art from isolation).
Artists were supplied via email or post with a page from Newnes' Pictorial Knowledge 1950's Encyclopedia (Edited by Enid Blyton) selected at random, which was to form the basis of an artwork to be exhibited at some time on the other side of the Pandemic. The page could act as inspiration for the colours, forms, texture, feeling or as a research starting point to dive down the rabbit hole! Artworks could be any medium but needed to be created on paper of A4 size and remain unframed.
My page was 184: The Owl Keeps Guard. The photo and description show a 'long eared owl' who, unlike most owls, has 'constructed quite a sound nest amidst the branches'. I spent a good deal of time imagining what, during Covid lockdown, the owl is guarding in that sound nest.
It is alarming to me that in order to protect ourselves we are reneging on all the good (but still too slow) progress made with moving away from single use items. Coffee cups, hand sanitizer, masks, gloves… so much plastic is being thrown away again. The voices supporting our planet are being muffled by the fear of pandemic. We seem unable to deal with more than one complex problem at a time even though this is the only way we will actually be able to sort things out.
My owl was drawn with stitch using recycled bits and bobs. It feathers are cut from sanitizer label feathers and the nest from plastic food wraps. Stitching is often a mindful activity and as I worked, I realised that David Attenborough is one of the only wise old people keeping guard over our precious planet. He and Greta Thunberg are keeping us aware that the problem is not going away.
The Door to Door project was exhibited at No Vacancy Gallery in Melbourne in February 2021 and virtually at: www.artaviso.com/door-to-door-virtual/