a contemporary view of the 'Iron Needlewoman'

This exhibition is the result of a year of challenges as a member of the textile group Studio 21. The aim was to research an element of the sewing machine: from sewing machine mechanics, decoration and operation to personal and social histories. Each member of Studio 21 has then produced work reflecting their personal interest in this transformational machine.
We also had a series of challenges as a group: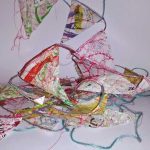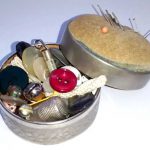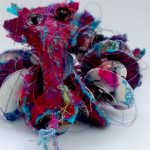 Blue Wind the Bobbin Up indigo dyed tape
Little Boxes, Little Boxes One of Gran's Tins of bits and bobs
Machine Sound Bobbin Dragon
Automatic Stitches Recycled Plastic Bunting
More information is available on the Studio 21 Web Site here
There was a preview of the exhibition at the SIT showcase in Cheltenham before the main exhibition at the end of October. Followed by a week at the The Bracknell Gallery, South Hill Park Arts Centre, Bracknell RG12 7PA and a month's residency at the Lansdown Gallery, Stroud as part of the SIT Select textile festival in May 2016.